What Defines a Successful AdWords Text Ad?
A common error advertisers make when writing a text ad is laying the majority (if not all) of the importance on the actual words in the ad copy. While you and I both know the importance of enticing and relevant ad copy, I'm here to share other factors that need to be considered with at least equal weight.
I'm talking about the 5 "Rights" of Marketing: Delivering the right message to the right person at the right time in the right place with the right experience. Full disclosure, I stole this concept from my boss, but it's not plagiarism if you're friends – right?
The Right Message
Ah, the ad copy. This is your opportunity (in 80 characters or less) to inform your audience exactly what you can do for them. Headline 1 should emphasize the relevance of your ad to your customer. To accomplish this, always include the keyword your potential customer is searching. Time is money and relevance is key. Consumers crave a speedy and efficient transaction. Headline 2 and your description will take care of the enticing aspect. With ad space being competitive real estate, your ad needs to stand out from your competition. Do you offer free shipping? Tell them! Do you have a rewards program? Tell them! Anything that makes you unique and convenient, is important for your consumers to know, plus they want to know.
The Right Person
Depending on the age, nature, and size of your business, knowing your audience can be a tricky feat. Who is the right person to target? This can take time and some in-depth data analysis to figure out. Some quick tips to ensure your ads are being shown to the right person are:
Search terms. If the search terms triggering your ads aren't relevant to the product you're offering, you need to adjust your keywords to eliminate those searches.
Click-through rate (CTR). Many factors can contribute to a low CTR, and showing your ads to the wrong audience is one of them. If your CTR is below 1%, I would consider the possibility of adjusting your audience.
Google analytics. If you're familiar with Google Analytics, a quick and efficient way to dial in your audience is with the demographics and interests report. With the quick installation of the Google Analytics code on your website, you can determine the age groups, gender, and interests of the people converting highest on your site. This information is also available in the AdWords interface.
The Right Time
The right time? What does that even mean? I want my ads to show to my customers at every chance they can – said every advertiser ever. The fact of the matter is that isn't always possible. A limited budget, hours of operation, competition, and many other factors should influence your ad schedule. If your budget is limited, only show your ads at hours of the day that are converting at the highest rate. If your telephones are only manned until 4pm, don't show your ads after 4pm. The key here is to spend your advertising dollars when they're most profitable for you.
The Right Place
This one always got me. How am I supposed to know where my clients consumers are? (excluding the use of broad geographical reports). I know their digital footprint, shouldn't that be invasive enough? Then, I had an "ah-ha" moment. This "Right" of Marketing is not referring to the consumers physical location, but referring to their position in the marketing funnel. Am I hitting them with an ad when they're seeking the messaging of that specific ad? To optimize this aspect, try using RLSA (Remarketing Lists For Search Ads). Here, you can capture consumers who have previously been to your site and hit them with ad copy to reflect that. "Still Looking For Sunglasses? You Found Us Months Ago & This Playing Hard To Get Is Doing Nothing For Your Sun Protection".
The Right Experience
This "Right" of Marketing encapsulates the first 4. One could argue (as my boss does) that there are only 4 "Rights" of Marketing, but I dare you to tell me 5 doesn't sound better. Anyway, the right experience suggests your consumer was in need of a product/service, found your product/service and attained your product/service with efficiency and ease. If you can hit those rights, the experience you deliver to your consumers is undoubtedly the right one.
Ad Best Practices:
The 5 "Rights" are for you, as a marketer, to ensure your audience is captured, engaged, and converting on your site. Beyond that, text ads must follow Google best practices in order to maintain a good quality score on the platform. The following are some ad best practices to follow:
Character limits: 30 for headline 1, 30 for headline 2, and 80 for your description
Ad copy: Use capitalization at the beginning of every word
Headline 1: Always include the searched keyword
Ad Extensions: Use them! The more ad space you take, the more eye catching your ad is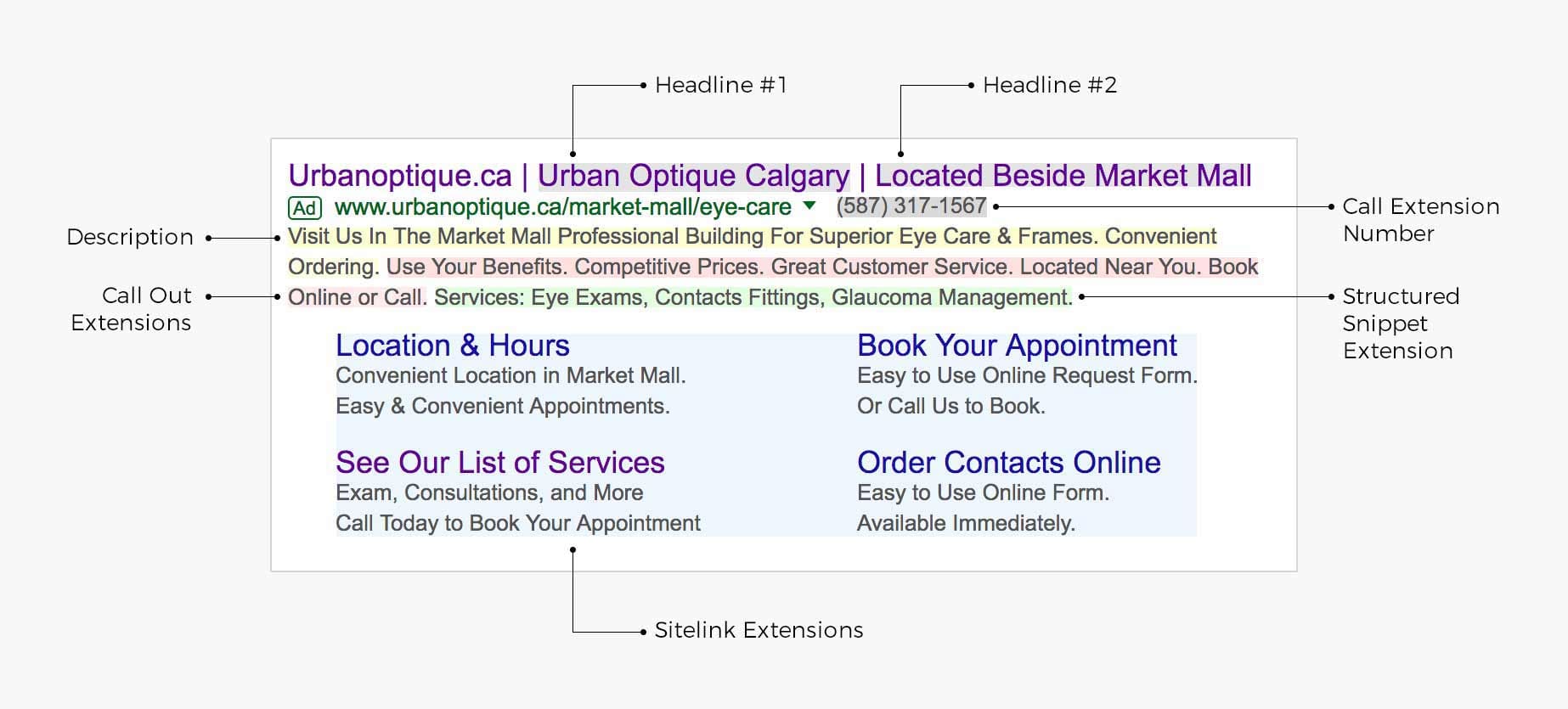 Putting It All Into Practice: Writing A Great Ad
So, now you're thinking, how can I put the 5 "Rights" of Marketing to effective use? This is what I do:
Before I write an ad, I determine the aspects of my clients business that I need in order to hit the 5 "Rights". After I write the ad, I ask myself "as a consumer, have I made my experience the right one?". If the answer is yes, then I ensure I've also hit the above Google best practices. Voila! A successful text ad has been created and is ready to show to the world!