Treating Dry Eye Disease (DED) has become big business in the eye care industry. It seems that for every 10 Optometry practices I speak with, 7 are investing in treating Dry Eye. From going to conferences, to learning the latest in diagnostic options, to buying amazing new technology that can actually treat the root of Dry Eye Disease.
We have been fortunate to work with some of the top Dry Eye practices in North America. This had us looking at how to market Dry Eye years ago, when it was only a few select practices that were going after this medical niche. We quickly realized that patients were not only unaware that they had Dry Eye, but a lot of them didn't even know it existed. They certainly did not know that there were treatments available for their irritated, gritty eyes. Even today, Dry Eye is still highly diagnosed in the chair.
This is where we come in. We have been successful at helping practices understand how they can market Dry Eye treatments through symptom-based marketing, for years. This marketing allows those with tired, sore, red eyes to pre-diagnose themselves with Dry Eye, and encourages them to book an assessment or at the very least visit a practice website to learn more.
I just finished recording a webinar on "Marketing Dry Eye" that shares 6 ways to utilize your marketing efforts when it comes to Dry Eye advertising. If you missed it, you can watch the recording here. We also created a 12-page eGuide for you to give to your patients. You can use this eGuide as a patient lead magnet to get them to visit your website, follow your Instagram feed or give you their contact information. We also have a file of Dry Eye social media posts that you can use however you'd like. These resources are all free and available for you to download here!
Here is a summary of my talk and the 6 ways to market Dry Eye:
1. Website
Websites are the hub for all other marketing efforts. All roads eventually lead to your website. If Dry Eye is a medical niche that your practice specializes in, you'll want to make this clear. With the right design elements, unique content, proper CTA (call to action), and banner advertising, you can truly showcase on your website that you are a Dry Eye guru. You can also teach Google that you are an expert, which allows you to rank for specific keywords that patients might be searching on Google such as, "My eyes are irritated and gritty at the end of the day."
It starts with building a dedicated service page to tell the story of Dry Eye. What is it, what causes it, how do you diagnose it and of course discuss the possible treatment options.
Now to take this to the next level, don't just build a single web page on Dry Eye, rather build a Dry Eye center of excellence that might include a page of general information, and additional pages dedicated to specific technology and treatments like Lipiflow & IPL. All of this content should be written uniquely with SEO basics in mind to help build Dry Eye authority online.
Something else we love to do on practice websites are pop up banners. These banners open when someone visits your website, and feature something new or special going on at the practice. They can also include interactive quizzes that get a patient to answer a few questions about the severity of their Dry Eye, which leads that patient to a report which suggests that they receive a Dry Eye assessment. We also like to put promotional banners or service blocks on the home page that help drive exposure and awareness. Lastly, let's not not forget about CTA's, i.e. calls to actions. If you want patients to book a Dry Eye assessments, make sure that there are CTA's throughout the website to do so.
Blogging is another way to highlight symptoms, technology, and keywords related to Dry Eye. They are one of the advanced SEO strategies we use to drive better ranking on Google, while also ensuring we are growing specific keywords. Blogs can be shared across multiple platforms such as Facebook, Instagram, LinkedIn and through email marketing.

2. Social Media
Social Media is a great way to market a niche like Dry Eye. You can visually show treatments and technology through photos and video, as well as boost posts to reach and gain additional followers.
There are plenty of options when brainstorming what kind of posts to create around Dry Eye. You can create your own, or you can also reach out to Dry Eye suppliers for posts involving their products or equipment. Think quotes, facts, stats, technology, Dry Eye symptoms, products (drops, omegas, masks), blogs, and other content pieces such as infographics.
Unsure of where to start? Download our free Dry Eye social posts here to get started!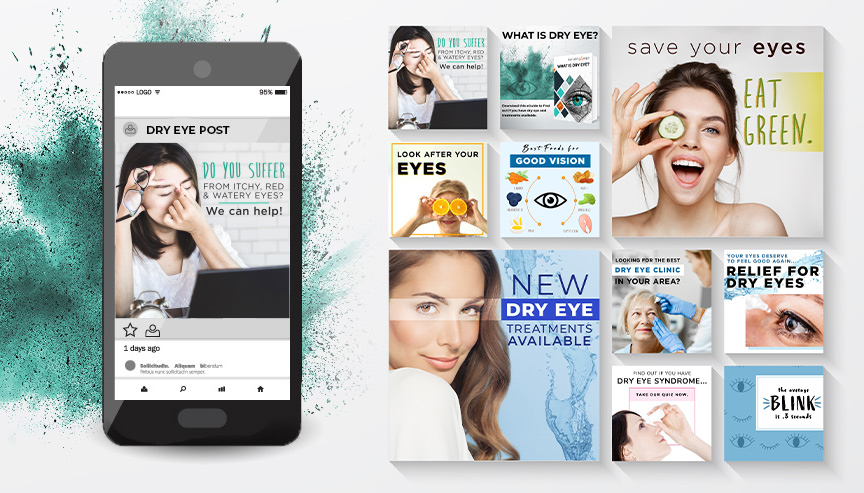 3. Advertising
You don't want to spend $50-$100K on an amazing new technology, and then not budget to tell people about it. Advertising is crucial to driving awareness. We find that Facebook ads and sponsored ads on Instagram have worked well to market Dry Eye.
However, hands down one of the easiest ways to get immediate traction on a new Dry Eye treatment, is to tell your current patients! You can do this through email marketing and text messaging. Email marketing has some of the highest return on investment. It is said that for every $1 spent on email marketing, you can get up to $37 in return. That is a pretty good ROI! We did a whole webinar on improving your practice's email marketing which you can watch here.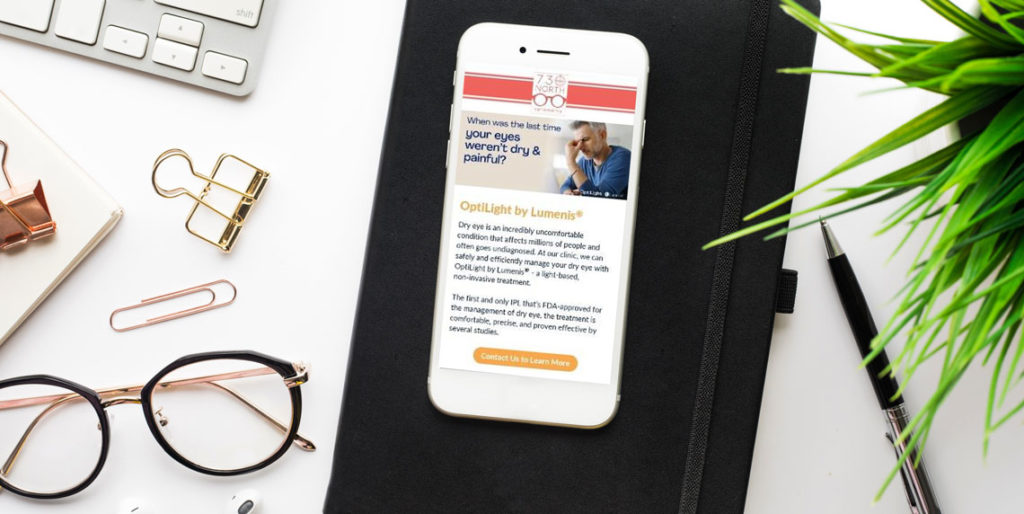 Dry Eye searches are starting to pick up, so consider also placing Google Adwords ads to ensure your practice is on top of page one when a patient is searching on Google. I always show practices who is competing in their geography for Dry Eye. You can do this yourself by searching Dry Eye and the city you are in. Who is showing up in this search… are you?
4. Video
Most practices don't utilize the power of video. This doesn't mean you need to go out and buy a ton of equipment or hire a production team. You can buy stock videos, utilize videos from supplier partners or take them yourself with your smartphone.
You, the doctor, making videos explaining to patients which symptoms are related to Dry Eye, or showcasing how the new IPL treatment works is just smart marketing.
5. In Office
Your office is a marketing opportunity around every corner. Posters on the walls, online forms, brochures and handouts are all huge opportunities to teach your patients that they may have Dry Eye while they are sitting in your office! Since 1 in 3 patients have Dry Eye symptoms, having the conversation with every patient is also important.
Digital screens in waiting rooms, screensavers on computers, and showcasing products available for purchase are other ways you can showcase your solutions for Dry Eye in your office. We love this deli fridge in the waiting room that has self-serve solutions, drops, nutraceuticals, cosmetics and more. What a unique way to make it easy to see what is for sale.
Eyes On Sheppard (Toronto, ON)
6. Referrals
If you have some of the latest Dry Eye treatment and technology, don't be shy… tell everyone! There may be referring Ophthalmologists who are not treating Dry Eye who see patients every day that need to be sent somewhere. General Physicians (GPs) see signs and symptoms and may not be aware that there is more than an eye drop available now. Talk to dermatologists about connecting the dots to Rosacea, let them know what you are doing, and invite them to see it live in the practice. Don't forget about salons who are working with fake eyelashes or lash extensions. If they see someone who needs some eye attention, have them send the client your way.
Whew… so many ways to market this medical niche. We're just getting started.
Need some help marketing your practice? Contact us!